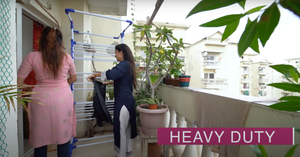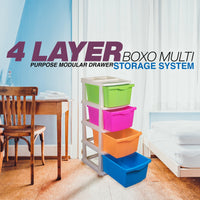 Boxo Multi Purpose Modular Drawer Storage
Parasnath Boxo is a revolutionary space organisation solution that is designed to make your life easier. With extra-large drawers and a modular frame that is designed for easy assembly and use, you'll never run out of space. This product is built from the highest quality virgin plastics in state-of-the-art manufacturing facilities to ensure it stands the test of time. It's ergonomic design includes a 4-wheel system attached to the frame, so you can move your Boxo conveniently. We've also added custom designed wheel caps that prevent slippage and lock your product firmly in place when required.
click here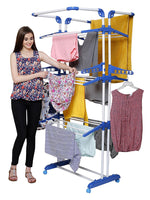 PARASNATH Prime Stainless Steel 3 Poll Clothes Drying Stand With Breaking Wheel System- Blue
Parasnath brings to this retractable cloth drying stand to relive you from all the cloth drying woes. The stand features multiple stands to dry your apparel, intimates and other cloth items within the comfort of your home, It is made from steel.
Buy Now
PARASNATH Prime Stainless Steel 15 Rods Extra Large Foldable Cloth Dryer/Clothes Drying Stand - Made in India
The Parasnath clothes drying stand makes laundry chores easy and convenient. It features a user-friendly, accordion style design that sets up in seconds. Simply hang your favourite clothes for energy-efficient air drying.
A must-have for any home, this drying rack is a space saving. So when not in use, quickly fold flat for compact storage in a closet or next to the washing machine until you're ready to use it again.
BUY NOW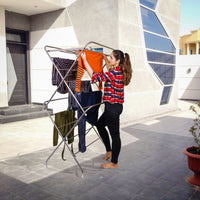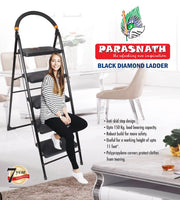 Parasnath 5 Step Black Diamond Ladder
Parasnath Heavy Folding Ladder with Wide Steps is perfect for any use; lightweight enough for home and DIY use but also heavy duty enough for commercial use. The ladder is manufactured from high quality powder coated steel and has a compact folding design. The ladder features wide steps with rubber mats to prevent slipping.
Buy Now
Let customers speak for us
follow us on instagram and facebook @PARASNATH.CO